4 injured, including 2 students, after shooting near Georgia State University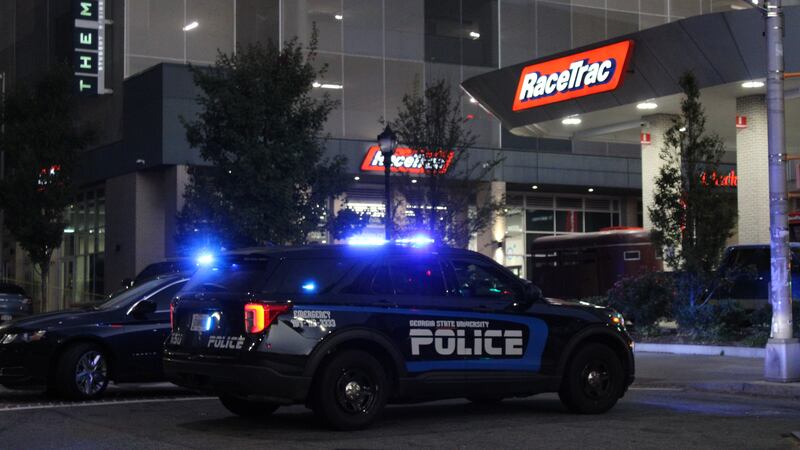 Published: Oct. 29, 2023 at 8:06 AM EDT
|
Updated: Oct. 29, 2023 at 10:20 PM EDT
ATLANTA, Ga. (Atlanta News First) - Police are investigating a shooting by Georgia State University in downtown Atlanta, they told Atlanta News First.
Officers responded to a RaceTrac gas station on Piedmont Avenue at 5 a.m. on Sunday. Four people were shot, including three women and one man, police said. Three victims had already taken themselves to the hospital with non-life-threatening injuries by the time authorities arrived, while police found the fourth in critical condition and took her to Grady Memorial Hospital.
Two of the victims are also GSU students, the university confirmed.
The university said people not involved with GSU exchanged gunfire at John Wesley Dobbs Avenue and Cortland Street, with the students as innocent bystanders.
"I communicated with the Mayor in addition to our campus leadership, and we are working closely with the Atlanta Police Department (APD) as they conduct their investigation," said Georgia State's President Brian Blake in a statement released Sunday. "Our thoughts and prayers are with those who were injured and their families," he said.
Police said the shooting began when two groups started fighting, adding that there was a "large crowd" at the gas station. The investigation remains ongoing.
The gas station is across the street from University Commons, a student housing facility, and the Piedmont Central Dining Hall.
A woman staying in the area overnight told Atlanta News First she heard a smattering of gunfire and cars racing off.
"I was like, 'Yeah, something definitely happened,'" she said. "I didn't even want to go outside and see it."
Several businesses in the area have announced closures after the incident.
Last December, a GSU student was shot and killed at the same gas station.
RELATED: Georgia State student shot, killed at gas station near campus, school confirms
Check back with Atlanta News First as this story develops.
Copyright 2023 WANF. All rights reserved.