Study: Giant parachuting spiders are 'spreading like wildfire' in SC
Published: Nov. 2, 2023 at 11:34 AM EDT
|
Updated: Nov. 2, 2023 at 11:48 AM EDT
CLEMSON, S.C. (FOX Carolina) - Joro spiders, large, yellow spiders native to Asia now invading large parts of the U.S., are here to stay, according to a recent study.
Researchers believe Joros first made their way to America on shipping containers more than a decade ago. Their range now spans at least 120,000 kilometers including South Carolina, North Carolina and Georgia. Their large size and ability to "parachute" using their web makes them frightening to many, but the orb-weavers are relatively harmless to people.
Clemson scientist and assistant professor David Coyle collaborated with other scientists for a study to determine how pervasive Joro spiders have become.
The results? Joro spiders are here to stay.
"And not only that; they are spreading like wildfire," officials said in a release.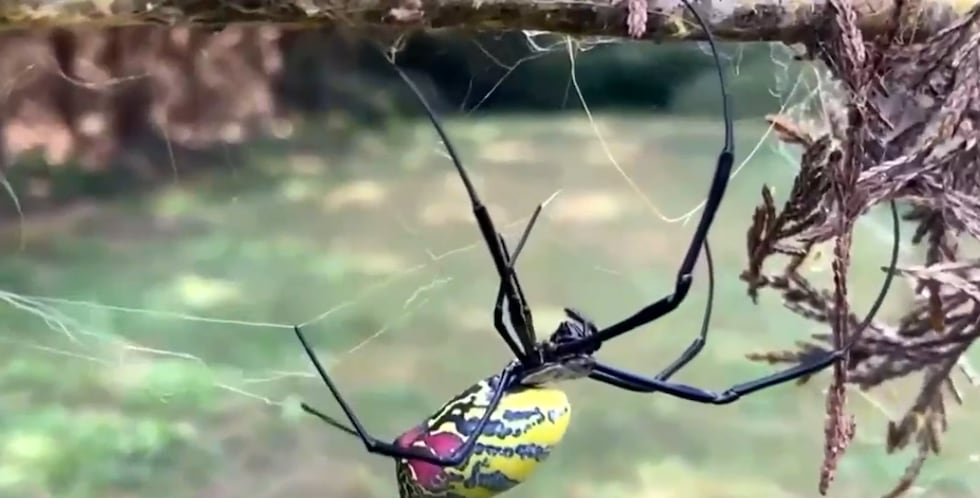 "I walked the edge of the woods — and they were everywhere," Coyle said. "I have a 94-yard perimeter and found 50 Joro spiders on the perimeter. So, basically, every two yards there was a spider."
The study found that much of the continent has a habitable environment for Joros, which travel using their parachuting or ballooning ability, and their range will continue expanding north. Some populations have already been found in Maryland.
"Data shows that this spider is going to be able to inhabit most of the eastern U.S.," Coyle said. "It shows that their comfort area in their native range matches up very well with much of North America."
Coyle led the research with Southern Adventist University Professor David Nelsen, who found that native species are being pushed out by Joros. If you find an abundance of Joro spiders in an area, you won't find other spiders.
"These spiders don't seem to care what gets in their web; they're just as likely to eat brown marmorated stink bugs as they are to eat a Monarch butterfly," Coyle said. To say they're more beneficial than another spider is just simply wrong — they're a spider — and if something gets caught in their web, it's going to get eaten. And they don't care if it's a rare native pollinator and there are only a few of them left in the world or if it's a brown marmorated stink bug."
Joros probably aren't trying to get inside your home, though, preferring to build webs outside houses or other structures. Physically moving them may be the best and cheapest way to get rid of them.
"Pesticides work, but, also, they are probably overkill because it will kill everything else, and there is a cost involved; it's just as easily to physically move them if they are on your house," Coyle said. "I just tell people to take a stick or broom and remove them."
Copyright 2023 WHNS. All rights reserved.