Clemson Wins Thriller in Asheville
PJ Hall finished with 27 points and nine rebounds; Chase Hunter seals win at foul line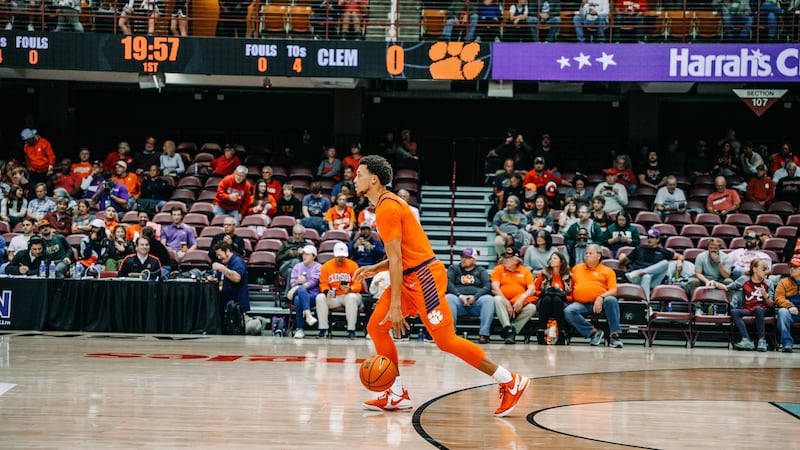 Published: Nov. 11, 2023 at 3:14 PM EST
ASHEVILLE, N.C. (Clemson Athletics) – With 3.6 seconds left, Chase Hunter was fouled and made both to give Clemson University men's basketball the lead and sealed the victory, 77-76.
The Tigers (2-0) were led all night by PJ Hall who finished with 27 points and nine rebounds. It was his 17th 20-point game in his career and his 13th-straight double-figure scoring game dating back to last season.
Hunter totaled 16 points, three rebounds and four assists in the game. His younger brother, Dillon Hunter, finished with four points and three assists but it was everything else he provided, including a team-high plus-eight on the floor.
Clemson fought in the opening stanza but trailed the Blazers (0-2) at the break 42-39. The Tigers would get down a game-high nine points multiple times in the second half, including a 67-58 deficit with 7:01 left in regulation.
Over the next 3:13 Clemson would engineer a 14-0 run to take a five-point lead at 72-67 with 3:48 remaining. UAB would recover and take the lead twice on 3-pointers before the heroics of Chase Hunter.
The Tigers finished with 16 assists, seven blocks and four steals, while outscoring the Blazers 34-22 in the paint. Clemson was victorious despite finished 17-of-27 from the free throw line, but the two most important came from the hands of Hunter with the game on the line.
Clemson advances to the championship game of the Asheville Championship and will play Davidson at 3 p.m. on ESPN2 on Sunday, Nov. 12.
Copyright 2023 WHNS. All rights reserved.