Gamecocks Survive and Advance Over JMU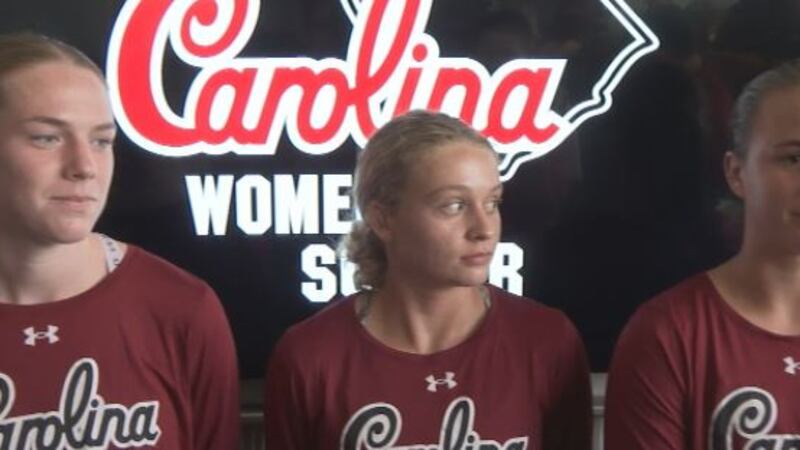 Published: Nov. 11, 2023 at 3:09 PM EST
COLUMBIA, S.C. (Gamecocks Athletics) – Two goals from junior midfielder Lily Render helped boost the No. 16 South Carolina women's soccer team (12-2-6) past James Madison (9-5-8) in the first round of the NCAA tournament Friday, Nov. 10 at Stone Stadium.
The offense came early and often for Carolina as the Gamecocks generated six shots in the first 22 minutes of action. In the 24th minute, senior forward Corinna Zullo served a ball into the box to Render who found the back of the net putting Carolina up 1-0. The duo wasted little time as six minutes later in the 30th, Zullo served another ball into the box and Render scored her second goal of the night making it 2-0. Carolina outshot the Dukes 8-1 in the first half, and 4-0 in shots-on-goal.
The Gamecocks generated 11 more shots in the second half, seven of them being on target. The back line remained locked in for the final 45 blocking several shots in the JMU attacking zone. Graduate midfielder Hollyn Torres contributed key minutes winning multiple possession battles in both halves along the midfield line.
Fifth-year keeper Heather Hinz had an outstanding game making a pair of saves on the night including a one-on-one matchup against JMU forward London Lewis. The Carolina back line along with Hinz secured the team's 13th shutout of the season.
Copyright 2023 WHNS. All rights reserved.