Deputies: 6 arrested on drug, child neglect charges in Laurens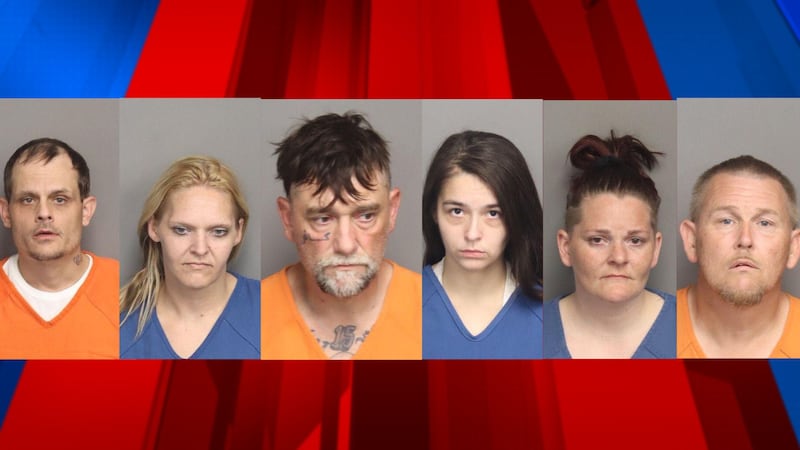 Published: Nov. 13, 2023 at 12:56 PM EST
LAURENS, S.C. (FOX Carolina) - The Laurens County Sheriff's Office said six people were arrested in an month-long burglary investigation.
According to the sheriff's office, on Nov. 9, deputies executed simultaneous search warrants at 244 Boyd Road and 8837 Highway 76 West.
Deputies said numerous arrests were made because of this investigation and several guns and illegal drugs were seized.
The following people were arrested:
Scottie Wayne Burkhalter was charged burglary first degree, grand larceny, receiving stolen goods over $2,000 in value, weapons/sale or delivery of pistol to and possession by certain persons unlawful, stolen pistol.
Heather Sims was charged with receiving stolen goods over $2,000 in value.
Jason Sommers and Dana Sommers were both charged with two counts of unlawful neglect of a child, two counts of possession of schedule I to V controlled substance, trafficking meth over 10 grams and possession with intent to distribute controlled substance in schedule I, II, III.
Britany Lynn Holliday was charged with trafficking meth over 10 grams and parole violation.
Christopher Dale Sams was charged with possession of less than one gram of meth.
MORE NEWS: Police trying to identify robber armed with large knife in Asheville
Copyright 2023 WHNS. All rights reserved.