Tigers top Tar Heels for fifth ACC Tournament Championship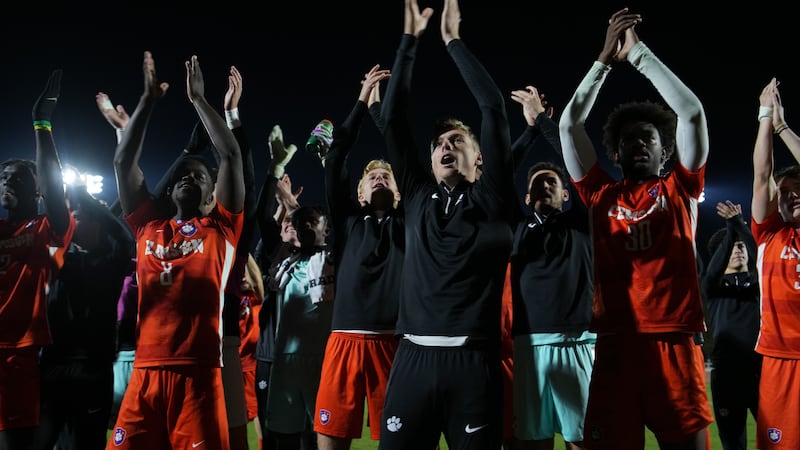 Published: Nov. 12, 2023 at 8:11 PM EST
CARY, N.C. (Clemson Athletics) – Clemson and North Carolina played 110 minutes of even soccer before the Tigers outdueled the Tar Heels 5-3 in penalty kicks to take home the 2023 ACC Championship trophy. The 2023 championship gives the Tigers five ACC Tournament Championships in program history.
First team all-conference selection Ousmane Sylla netted Clemson's only goal in the match, before the Tigers were a perfect 5-for-5 on penalty kicks. Clemson is now 4-6-1 all-time in ACC Championship contests and gives the Tigers three ACC Tournament titles under head coach Mike Noonan.
The teams battled in the game's opening 45, getting back-to-back opportunities and saves in the 25′. The Tigers had another opportunity to draw first blood in the 42′, but UNC's Cordes made his second save of the day to keep the halftime score even at 0.
North Carolina broke the nil-nil tie just two minutes into the second half on a goal by Quenzi Huerman. The Tigers began to pressure the UNC defense, taking seven shots over the next 20 minutes, before Sylla finally broke through and netted the equalizer in the 83′. Joran Gerbet sent the ball to Sylla who stutter-stepped, hesitated, then launched a ball past the UNC defense and a diving keeper into the top corner of the net for his 10th goal on the season.
The Tigers took four shots in the two overtime periods compared to North Carolina's zero, but couldn't net a game-winner. Then, in penalty kicks, the teams traded makes in their first two attempts before Gerbet netted his attempt and North Carolina missed. The teams traded makes in their fourth attempts and then Alex Meinhard buried his attempt to give the Tigers the 2023 trophy.
Next up – the Tigers await their NCAA Tournament seed and opponent. The NCAA selection show will be aired on NCAA.com on Monday, November 13, at 1 p.m.
Copyright 2023 WHNS. All rights reserved.