57th Annual Governor's Carolighting kicks off Christmas season at SC State House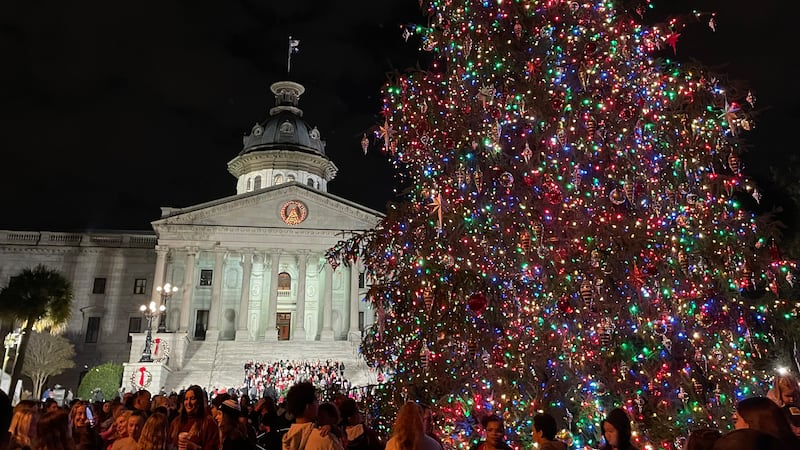 Published: Nov. 15, 2023 at 11:12 AM EST
COLUMBIA, S.C. (WIS) - South Carolina Gov. Henry McMaster and First Lady Peggy McMaster held the 57th annual Governor's Carolighting at the South Carolina State House on Sunday.
"The Carolighting is one of South Carolina's finest traditions, bringing together family, friends, and neighbors," McMaster said in a statement released before the event. "Peggy and I look forward to joining with fellow South Carolinians to celebrate the beginning of a new Christmas season."
The 35-foot-tall Christmas tree officially lit up during the Carolighting, marking the beginning of the holiday season in the Palmetto State.
WIS alumna and Miss South Carolina 2023 Jada Samuel emceed the event, which featured carols and musical selections from groups from around the Palmetto State.
The event featured music performances from many musical groups who performed various Christmas classics.
The celebration was capped off with the lighting of the South Carolina Christmas tree, a 35-foot Norway Spruce from Morgantown, North Carolina, adorned with nearly a thousand ornaments and 13,000 lights. The tree will remain outside the north side of the State House, at the corner of Main Street and Gervais Street in downtown Columbia, through the end of the holiday season.
The Carolighting was sponsored by Experience Columbia SC, the Columbia Garden Club, and the Garden Club of South Carolina, officials stated.
You can watch the full events below:
Notice a spelling or grammar error in this article? Click or tap here to report it. Please include the article's headline.
Stay up to date with WIS News 10. Get the app from the Apple App Store or Google Play Store and Stream us on Roku, YouTube, Amazon Fire, or Apple TV.
Copyright 2023 WIS. All rights reserved.