Raids net knockoff bags, apparel, said to be worth $1B if items had been real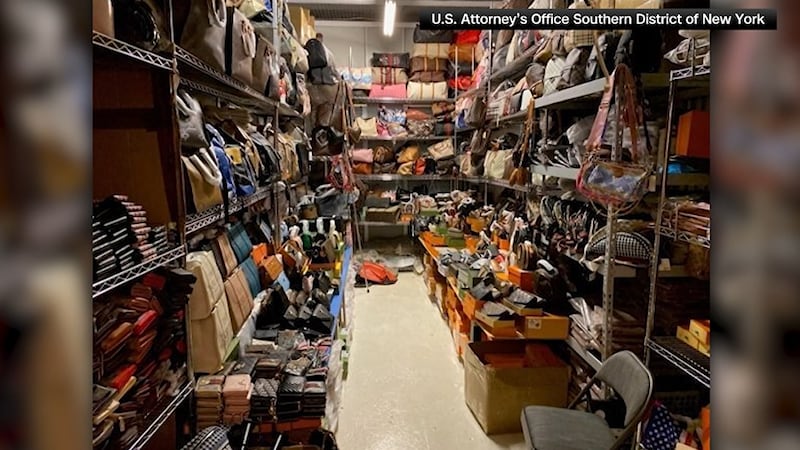 Published: Nov. 16, 2023 at 8:04 AM EST
|
Updated: Nov. 16, 2023 at 11:45 AM EST
NEW YORK (AP) — Raids on storage facilities in New York City turned up a huge haul of counterfeit handbags, shoes and other luxury merchandise that could have been worth more than $1 billion if the knockoffs had been real, federal authorities announced.
Roughly 219,000 items were seized from Manhattan storage facilities in recent enforcement actions by U.S. Homeland Security investigators and city police, authorities said Wednesday. Two people were charged with trafficking counterfeit goods.
Photographs released by prosecutors showed shelves stacked with wallets and bags in one location and handbags hanging from hooks from floor to ceiling in another.
U.S. Attorney Damian Williams called the raids "the largest-ever seizure of counterfeit goods in U.S. history."
The two men charged could face up to 10 years in prison if convicted. Indictments accuse them of distributing counterfeit goods since at least January.
Counterfeit luxury goods have been a staple of the underground New York City shopping experience for generations, with some savvy shoppers actually seeking out inexpensive knockoffs that look identical to designer goods but can be bought for hundreds or even thousands of dollars less.
Law enforcement officials, often working in conjunction with investigators from luxury brands, have taken a more aggressive approach to cracking down on counterfeiting in recent decades, targeting both the retailers who sell them and the importers and distribution centers.
The actual street value of the items seized in the raids is likely well under $1 billion, federal authorities said. That price was based on the manufacturer's suggested retail price for the real versions of the seized fakes.
Copyright 2023 The Associated Press. All rights reserved.