Cardoso's offense, team defense power No. 1 South Carolina to 78-38 win over South Dakota State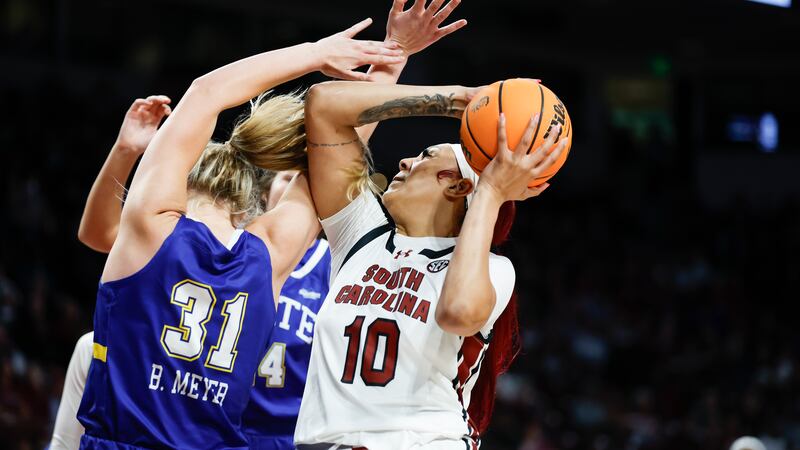 Published: Nov. 20, 2023 at 10:06 PM EST
COLUMBIA, S.C. (AP) — When the shots wouldn't fall, No. 1 South Carolina relied on its defense, which was more than enough against South Dakota State.
Kamilla Cardoso had 23 points, 10 rebounds and six blocks while Raven Johnson had 18 points and five steals as the Gamecocks overcame a poor early shooting performance to defeat the Jackrabbits 78-38 on Monday night.
South Carolina had only six field goals in the first quarter and 15 by halftime, a 33% showing for a team that came in seventh in the country in shooting at 53.1%.
"When you don't see a shot go in, of course, you get down," Johnson said. "So I think, you go get a steal, go get an easy two points."
That approach turned things around for South Carolina (4-0).
It didn't help the Gamecocks that they were without their most reliable outside shooter in Oregon transfer Te-Hina Paopao, who was sidelined with an ankle injury. Paopao started the first three games and went 10 of 17 on 3s.
Minus Paopao, the Gamecocks missed all 12 of their 3-pointers, their first time without making a 3 since a 76-62 win over Mississippi State in the Southeastern Conference tournament title game on March 8, 2020, when they were 0-for-8 from behind the arc.
"The goal got small for us," coach Dawn Staley said. "But we righted the ship in the second half."
South Carolina took control with relentless rebounding and defense. The Gamecocks had 16 blocks, 15 steals and led the Jackrabbits 21-10 in offensive rebounds.
South Carolina outscored South Dakota State 31-0 on the fast break.
Johnson had six assists and five steals. The 6-foot-7 Cardoso had her third double-double of the season and 19th of her career.
Brooklyn Meyer scored 19 points for the Jackrabbits (2-2), who were the preseason favorites to win the Summit League.
SDSU went up 13-11 after Meyer's basket late in the first quarter. But South Carolina set off on a 19-7 surge to move in front for good.
Jackrabbits coach Aaron Johnson appreciated his team's strong start against the powerhouse Gamecocks, but acknowledged his players got worn down through foul trouble in the second half.
"Foul trouble a little bit and the extra pressure your fouls put on you, the extra rotations," Johnson said. "Things turned really quickly in that third quarter."
BIG PICTURE
South Dakota State: The Jackrabbits made things unusually difficult on South Carolina early. But they ultimately couldn't keep it close against the faster, taller Gamecocks.
South Carolina: The Gamecocks looked a little out of control at times as less experienced players like MiLaysia Fulwiley and Sahnya Jah jacked up several poor shots while Staley stood on the sideline with her arms folded and scowling.
INJURED GAMECOCKS
South Carolina played its second game without versatile freshman Tessa Johnson, who sustained a lower right leg injury at practice. Johnson used a scooter to elevate her leg. Staley was unsure if Johnson or Paopao would be available for South Carolina's next game.
UP NEXT
South Dakota State returns home to face South Carolina State on Friday night.
South Carolina concludes a four-game homestand against Mississippi Valley State on Friday.
Copyright 2023 The Associated Press. All rights reserved.