First Alert Meteorologist, FOX Carolina News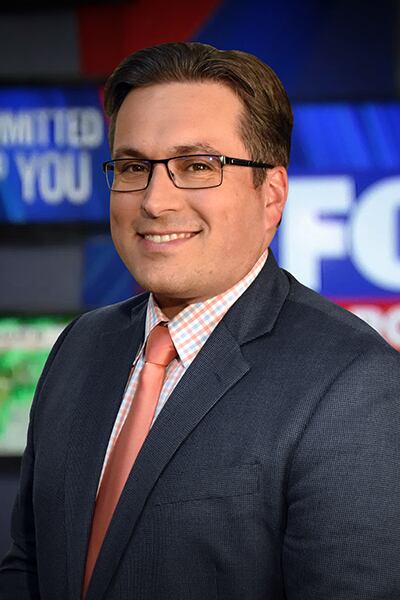 Bryan Bachman is a First Alert meteorologist at FOX Carolina. He joined the weather team in January 2022.
More about Bryan:
Hometown: Brick, NJ
Moving From: Midland, MI
Graduated From: Rutgers University
Degree: Meteorology
Career Synopsis: Interned at WABC-TV in New York, NY in 2009; Meteorologist at WTEN-TV in Albany, NY 2010-2012; Freelance Weather Anchor at News 12 Networks in Bronx & Brooklyn, NY 2012-2014; Started as a meteorologist at WNEM-TV in Saginaw, MI in 2014, and was named Chief Meteorologist in 2015, which I held until coming to FOX Carolina.
The Fun Stuff:
On the weekends, I love to: get outside and walk with my fiancée, play video games, catch up with friends, take in dinner and a movie.
My favorite movie is: A tie between the Back to the Future Trilogy and any of the Avengers films
My favorite kind of music is: Punk rock
My favorite food is: Pasta
Hobbies: Light gardening, video games, keeping records on my home weather station, word puzzles
Pets: Two cats. Allister (male) & Luna (Female), who are siblings.
Most Memorable Story:
Two come immediately to mind. The first was during tornado coverage in July 2021. On a day where several tornadoes touched down in central and southern Michigan, we were forced to take shelter while on the air as a funnel cloud passed over Saginaw where our studios were located. There was no touchdown in Saginaw, but other towns in our viewing area sustained serious damage from other tornadoes.
The other was also tornado coverage on March 14, 2019. Severe weather season in Michigan typically peaks in June and July, but we were forced into coverage for 4 tornadoes that would touch down that evening. These were winter tornadoes, occurring just a week before the official start of Spring.
Awards
Emmy Award for Weathercast, 2020 Michigan Regional Emmy Awards
Best Weathercast (Commercial Market 2) 2016 & 2017, Michigan Association of Broadcasters
Merit Award – Weathercast 2019, Michigan Association of Broadcasters
Second Place – Weathercast 2018, Associated Press