Former Digital Manager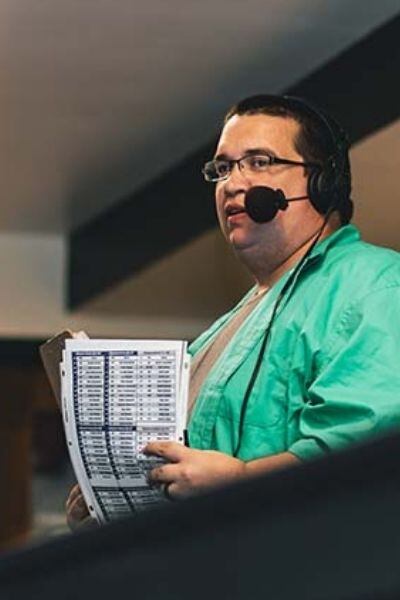 A native of Cadott, Wis. and a graduate of Flambeau High School, Jimmie is a lifelong resident of Wisconsin. He arrived to Gray Television in 2021 as a digital manager, a role he also held at iHeartRadio for dozens of stations in the Midwest prior to his time at Gray TV since 2003. Jimmie managed the digital products for WEAU 13 News in Eau Claire, Wis., including content, social media and streaming, from 2021 to 2023. In addition to a career in digital media, Jimmie has been a sports broadcaster for radio, TV and streaming since 2002, calling primarily college, amateur/junior and high school sports. He's also reported on and covered events such as the Super Bowl, World Series and NCAA Tournaments in basketball.
Currently, Jimmie resides in western Wisconsin, splitting time between Lake Wissota and the Driftless Area enjoying everything Wisconsin has to offer. His first television experience was at 7 years old, walking out onto a live weather forecast during a station tour in 1992 to the dismay of the meteorologist on duty that day. When he's not calling games or covering digital, you'll find him getting beat in video games by his two kids or chasing after his dogs.
"You're a knucklehead, but you're OUR knucklehead!"
Education
University of Wisconsin-Superior, Journalism & Mass Media, 2020-2021
University of Wisconsin-Whitewater, Journalism, 2005-2007
University of Wisconsin-Barron County, Communication, 2003-2005
Flambeau High School, 2003
Awards
Big Brothers Big Sisters of Northwestern Wisconsin BIG Personality & BIG Mouth awards, 2014
WI Broadcasters Association, Large Market Radio Play-by-Play, 2017, 2018, 2019, 2020, 2021
WI Broadcasters Association, Medium Market Radio Play-by-Play, 2020, 2021
WI Broadcasters Association, Small Market Radio Play-by-Play, 2018, 2021
WI Broadcasters Association, Web Story TV, 2021
WI Broadcasters Association, Website, 2021
WI Broadcasters Association, Use of Social Media, 2021
WI Broadcasters Association, Online Breaking News Coverage, 2021